Okay so basically I just wanted to share my latest obsession with you guys! Theres a few so we better get started!
Smart Water
Okay so I was at Henry's yesterday with my mom and I saw smart water. I knew that I had to have it! I always see people drinking it and it seemed so mysterious so I had to try it! Mines about half gone and to me it tastes almost like regular water. But I love the bottles :) It cost about 1 dollar. (I think)
Smashbox lip gloss in Fame
So this is my Smashbox lipgloss in Fame (it will be featured in a haul coming up :) ) But I have literally been using this every day since I got it and it costs $18. I was going to get another one which was like a light pink, but I am not a big fan of lipglosses where you apply it with a brush. So I got the sponge tip instead. this color is perfect for the pink lip :)
Panera! :)
Alright so another one of my obsessions has been Panera Bread. It is like totally AMAZINGGG! (Im actually going there at noon today with a friend :) ) I order the same thing every time which is a : Broccoli cheddar soup in a bread bowl (or regular bowl, that varies) but I have never been a fan of broccoli, and I still am not but literally this soup is like the best soup I have ever had. (DIP YOUR BREAD IN IT! it tastes amazing) So yeah. and it only costs like 4 dollars!
MINTS!
Alright so this is the last obsession that I am going to share with you today. This one is the Life Savers Mints in Wint o Green. I buy these in the bag shown above, and they are individually wrapped like this: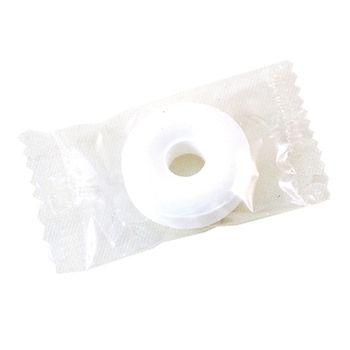 Individual mint
So all of the mints come individually wrapped and they taste delicious. They are actually quite big in size for mints. I definitley recommend trying these. My favorite flavor is the Wintergreen. (the green one)
Okay so those were some of my latest obsessions and if you like these types of blog posts let me know so I can do more. Thank you guys so much for subscribing and commenting!!!!!!!!
Love,